OVERVIEW
TATA SIGNA 4625.S ESC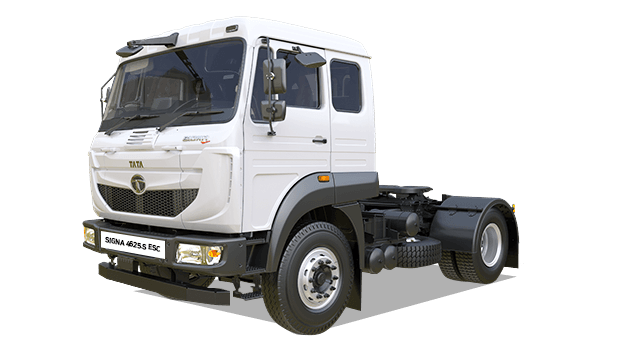 The Signa 4625.S is a standout tractor trailer from the new and improved BS6 enhanced MHCV range, now with a built-in Electronic Stability Control system. The truck is designed with intelligence, to deliver on the Power of 6:
Power of Enhanced Performance
Power of Lower Total Cost of Ownership
Power of Comfort and Convenience
Power of Choice
Power of Connectivity
Power of Total Peace of Mind
Advanced technology backs the ever-reliable and high performing Cummins ISBe 6.7L engine with 250 HP and 950 Nm torque. High power, torque and gradeability gives the Signa 4625.S its excellent pickup, load pulling and multi-terrain abilities. While features like a three mode Fuel Economy switch, Gear Shift Advisor and Load Based Speed Control ensure the highest fuel efficiency and mileage.
The new Signa 4625.S is one of the safest heavy-duty tractors in the market, thanks to Tata Motors' ESC smart, the industry's first and most efficient ESC technology to homologate on commercial vehicles. This technology increases vehicle stability during critical driving manoeuvres (oversteer or understeer) by pre-empting and preventing roll-overs or accidents. It reduces roll over effect by selective intervention on the brakes and engine. This additionally protects against added repair and maintenance costs, while improving vehicle uptime and driver & cargo safety because of enhanced stability and control
From its strong aggregates to the stylish and comfortable cabin, the Signa 4625.S boasts a variety of enhanced features that improve its functionality, convenience, safety and value. These include a new generation instrument cluster, new generation telematics, AC option, Hill Start Assist, Truck Hub Unit and more. It's got everything that makes it the top choice for a spectrum of businesses and applications that need a safe and profitable trucking solution.