In this ever challenging business environment as we thrive to tailor make our offerings to your exact requirements, we have taken a step further to provide you with the TML Fully Built Solutions.

Today's fiercely competitive business scenario means that you need to be ready on Day one with your asset and need to focus on your business fully. That is where we step in to take away all your worries.

The Fully Built Solutions' range from Tata Motors promises the High 6s that ensure you earn the maximum commercial gains and have complete peace of mind when it comes to your application requirements including the operation and maintenance of the bodies.

Now choose from the wide range of solutions on our truck and tractor platforms and enjoy the convenience of Ready-to-run vehicles, single invoice funding, hassle free registration, durable and reliable bodies designed, manufactured and maintained with the best in class processes, materials and techniques ensuring you earn more per trip.

Excellence and Trust are what we serve with our Fully Built Solutions range now with the Tata Motors High 6s

Take your business to newer heights with our world class chassis with optimally designed bodies that offer higher and faster return on investment giving you complete peace of mind.
REFRIGERATED CONTAINER ON ULTRA 1918.T BS6
REFRIGERATED CONTAINER ON ULTRA 1918.T BS6
| | | | |
| --- | --- | --- | --- |
| MODEL | 24 ft MS Reefer Container on ULTRA 1918.T_56WB | 24 ft PPGI Reefer Container on ULTRA 1918.T_56WB | 32 ft MS Reefer Container on ULTRA 1918.T_68WB |
Body Dimensions (LxWxH)
7320 mm x 2440 mm x 2590 mm
7500 mm x 2500 mm x 2700 mm
9805 mm x 2600 mm x 2805 mm
Internal Body Dimensions (LxWxH)
6970 mm x 2190 mm x 2240 mm
7240 mm x 2300 mm x 2470 mm
9455 mm x 2340 mm x 2465 mm
Floor
125 mm Sandwich panel construction with GRP Sheet + PU Foams + Aluminum T Grating
120 mm Sandwich panel construction with GRP Sheet + XPS Foams + Aluminium T Grating
125 mm Sandwich panel construction with GRP Sheet + PU Foams + Aluminum T Grating
Side panel
1.6mm corrugated MS panels + 100mm PU foams + 0.5mm SS Sheet (Food grade)
0.7mm PPGI sheet+ 100mm PU foams + 1.5mm GRP Sheet (Food grade)
1.6mm corrugated MS panels + 100mm PU foams + 0.5mm SS Sheet (Food grade)
Door
1.6mm corrugated MS panels + 100mm PU foams + 0.5mm SS Sheet (Food grade)
1.5mm GRP sheet+ 100mm PU foams + 1.5mm GRP Sheet (Food grade)
1.6mm corrugated MS panels + 100mm PU foams + 0.5mm SS Sheet (Food grade)
Headboard/Front panel
1.6mm corrugated MS panels + 100mm PU foams + 0.5mm SS Sheet (Food grade)
1.5mm GRP sheet+ 100mm PU foams + 1.5mm GRP Sheet (Food grade)
1.6mm corrugated MS panels + 100mm PU foams + 0.5mm SS Sheet (Food grade)
Roof
125mm PU Foam
120mm PU Foam
125mm PU Foam
Ambient Temperature
50 ⁰C
Operating Temperature range
(-20⁰C+25⁰C)
Insulation Density
38-40 kg/m
Refrigeration Unit: Make & Model
(Carrier) Supra 1150 / (Thermoking) T800
(Carrier) Supra 1150 / (Thermoking) T1000
Internal Lights
3 nos. - 6 " LED light sunken type, 24 V, equi-spaced, flush with roof
Electricals
As per regulations
Standard Accessories
Mudguard flap / side indicators / internal lights / others
Painting & Rust Prevention
Polyurethane (PU) finish paint
Additional Fitments
Strip curtain with SS brackets
Application
Fruits & Vegetables, Dairy, Pharmaceuticals, Meat, Frozen food, Sea food, Beverages and Flowers
Optional Fitments
Rear parking camera and camera inside container; Door opening sensor; Small U hook; Temporary partition; Load sensor with GPS tracking; Anti fuel theft system - OTP enabled padlock
MS CONTAINER ON ULTRA 1918.T BS6
MS CONTAINER ON ULTRA 1918.T BS6
| | | |
| --- | --- | --- |
| MODEL | 24 ft MS Container on ULTRA 1918.T_56WB | 32 ft MS Container on ULTRA 1918.T_68WB |
Body Dimensions External (LxWxH)
7 315 mm x 2 440 mm x 2 725 mm
9780 mm x 2590 mm x 3255 mm
Body Dimensions Internal (LxWxH)
7193 mm x 2370 mm x 2440 mm
9600 mm x 2525 mm x 2955 mm
Side Panel / Door / Front Panel
1.6 mm Corrugated MS Sheet
Floor Sheet
3.15 mm Mild Steel (chequered)
Wind Deflector
Tubular Structure of GI/FRP Sheet
Side Markers
3 nos. on each side (total 6)
5 nos. on each side (total 10)
LED Roof Lights
2nos.
2nos.
Electricals & Reflective Tapes
As per regulation
Application
Consumer Durables, FMCG, Parcel, E-Commerce, Industrial goods, Auto Components, Agri Bags
Optional Fitments
Rear parking camera and camera inside container; Door opening sensor; Small U hook; Temporary partition; Load sensor with GPS Tracking; Anti fuel theft system; OTP enabled padlock
HIGH SIDE DECK LOAD BODY ON ULTRA 1918.T BS6
HIGH SIDE DECK LOAD BODY ON ULTRA 1918.T BS6
| | | | | |
| --- | --- | --- | --- | --- |
| MODEL | 20ft High Side Deck Steel Floor on ULTRA 1918.T_49WB | 20ft High Side Deck Wooden Floor on ULTRA 1918.T_49WB | 24ft High Side Deck Steel Floor on ULTRA 1918.T_56WB | 24ft High Side Deck Wooden Floor on ULTRA 1918.T_56WB |
Body Dimensions (LXWXH)
6286 mm x 2424 mm x 2158 mm
6286 mm x 2424 mm x 2158 mm
7550 mm x 2424 mm x 2135 mm
7550 mm x 2424 mm x 2135 mm
Floor
1.4 mm Corrugated High Strength Steel
25 mm Composite wood
1.6 mm Mild Steel Corrugated Sheet
25 mm Composite wood
Side panel
1.1 mm Corrugated High Strength Steel
1.6 mm Mild Steel Corrugated Sheet
Door
1.2 mm Corrugated High Strength Steel
1.6 mm Mild Steel Corrugated Sheet
Headboard/ Front panel
1.2 mm Corrugated High Strength Steel
1.6 mm Mild Steel Corrugated Sheet
Painting
Polyurethane finish paint
Polyurethane finish paint
Application
FMCD, Industrial goods, Agri Bags, Steel parts, FMCG, Parcel, Pipes & tubes, Auto Components, Barrels, Cement Bags, Coal etc
DROP SIDE DECK LOAD BODY ON ULTRA 1918.T BS6
DROP SIDE DECK LOAD BODY ON ULTRA 1918.T BS6
| | |
| --- | --- |
| MODEL | 24ft 11 inch DSD_Chequered Floor on ULTRA 1918 _68WB_5L_Turbotron |
| | |
| --- | --- |
| Body Dimensions (LXWXH) | 7594 mm x 2489 mm x 914 mm |
| Floor | 3 mm Mild Steel Chequered Sheet |
| Side panel | 2 mm Mild Steel Corrugated Sheet |
| Door | 2 mm Mild Steel Corrugated Sheet |
| Headboard/ Front panel | 2 mm Mild Steel Corrugated Sheet |
| Painting | Polyurethane finish paint |
| Application | FMCD, Industrial goods, Agri Bags, Steel parts, FMCG, Parcel, Pipes & tubes, Auto Components, Barrels, Cement Bags, Coal, Palletized Loads like of Beverages etc. |
WATER TANKER ON ULTRA 1918.T BS6
WATER TANKER ON ULTRA 1918.T BS6
| | |
| --- | --- |
| MODEL | 12KL Water Tanker on ULTRA 1918 Ex_45WB |
| | |
| --- | --- |
| Body Dimension | 4800 mm x 2235 mm x 1420 mm |
| Outer Shell Thickness | 3 mm Mild Steel |
| Dish End Thickness | 3 mm Mild Steel |
| Compartment | 3 Compartments |
| Manhole | 3 Manholes |
| Application | Bulk Water transportation |
REFRIGERATED CONTAINER ON LPT 1918 5L Turbotronn Cowl BS6 / LPT 1918 Cowl BS6
REFRIGERATED CONTAINER ON LPT 1918 5L Turbotronn Cowl BS6 / LPT 1918 Cowl BS6
| | | |
| --- | --- | --- |
| MODEL | 32 ft MS Reefer Container on LPT 1918 _68WB_5L_Turbotron | 32 ft PPGI Reefer Container on LPT 1918 _68WB_5L_Turbotron |
Body Dimensions (LxWxH)
9760 mm x 2590 mm x 2800 mm
9715 mm x 2540 mm x 2718 mm
Internal Body Dimensions (LxWxH)
9450 mm x 2340 mm x 2460 mm
9455 mm x 2340 mm x 2465 mm
Floor
125 mm Sandwich panel construction with GRP Sheet + PU Foams + Aluminum T Grating
120 mm Sandwich panel construction with GRP Sheet + XPS Foams + Aluminium T Grating
Side panel
1.6mm corrugated MS panels + 100mm PU foams + 0.5mm SS Sheet (Food grade)
0.7mm PPGI sheet+ 100mm PU foams + 1.5mm GRP Sheet (Food grade)
Door
1.6mm corrugated MS panels + 100mm PU foams + 0.5mm SS Sheet (Food grade)
1.5mm GRP sheet+ 100mm PU foams + 1.5mm GRP Sheet (Food grade)
Headboard/Front panel
1.6mm corrugated MS panels + 100mm PU foams + 0.5mm SS Sheet (Food grade)
1.5mm GRP sheet+ 100mm PU foams + 1.5mm GRP Sheet (Food grade)
Roof
125mm PU Foam
120mm PU Foam
Ambient Temperature
50 ⁰C
Operating Temperature range
(-20⁰C+25⁰C)
Insulation Density
38-40 kg/m
Refrigeration Unit: Make & Model
(Carrier) Supra 1150 / (Thermoking) T1000
Internal Lights
3 nos. - 6 " LED light sunken type, 24 V, equi-spaced, flush with roof
Electricals
As per regulations
Standard Accessories
Mudguard flap / side indicators / internal lights / others
Painting & Rust Prevention
Polyurethane (PU) finish paint
Additional Fitments
Strip curtain with SS brackets
Application
Fruits & Vegetables, Dairy, Pharmaceuticals, Meat, Frozen food, Sea food, Beverages, Flowers
Optional Fitments
Rear parking camera and camera inside container; Door opening sensor; Small U hook; Temporary partition; Load sensor with GPS tracking; Anti fuel theft system - OTP enabled padlock
MS CONTAINER ON LPT 1918 5L Turbotronn Cowl BS6 / LPT 1918 Cowl BS6
MS CONTAINER ON LPT 1918 5L Turbotronn Cowl BS6 / LPT 1918 Cowl BS6
| | | |
| --- | --- | --- |
| MODEL | 32 ft_8.9 ft MS Container on LPT 1918 _68WB_5L_Turbotron | 32 ft_9.5 ft MS Container on LPT 1918 _68WB_5L_Turbotron |
Body Dimensions (LxWxH)
9884 mm x 2590 mm x 2680 mm
9850 mm x 2590 x 3180 mm
Body Dimensions Internal (LxWxH)
9754 mm x 2525 mm x 2425 mm
9754 mm x 2525 mm x 2955 mm
Side Panel / Door / Front Panel
1.6 mm Corrugated Mild Steel
Floor Sheet
3.15 mm Mild Steel (chequered)
Wind Deflector
Tubular Structure of GI/FRP Sheet
Side Markers
5 nos. on each side (total 10)
LED Roof Lights
2nos.
Electricals & Reflective Tapes
As per regulation
Application
Consumer Durables, FMCG, Parcel, E-Commerce, Industrial goods, Auto Components, Agri Bags
Optional Fitments
Rear parking camera and camera inside container; Door opening sensor; Small U hook; Temporary partition; Load sensor with GPS Tracking; Anti fuel theft system; OTP enabled padlock
HIGH SIDE DECK LOAD BODY ON LPT 1918 5L Turbotronn Cowl BS6 / LPT 1918 Cowl BS6
HIGH SIDE DECK LOAD BODY ON LPT 1918 5L Turbotronn Cowl BS6 / LPT 1918 Cowl BS6
| | |
| --- | --- |
| MODEL | 20ft High Side Deck_Steel Floor on LPT 1918 _48WB |
| | |
| --- | --- |
| Body Dimensions (LXWXH) | 6 150 mm x 2 358 mm x 2 154 mm |
| Floor | 1.6 mm Mild Steel Corrugated Sheet |
| Side panel | 1.6 mm Mild Steel Corrugated Sheet |
| Door | 1.6 mm Mild Steel Corrugated Sheet |
| Headboard/ Front panel | 1.6 mm Mild Steel Corrugated Sheet |
| Painting | Polyurethane finish paint |
| Application | FMCD, Industrial goods, Agri Bags, Steel parts, FMCG, Parcel, Pipes & tubes, Auto Components, Barrels, Cement Bags, Coal etc |
* Above FBV variants are also available on LPT 1918 Cowl BSVI (Cummins Engine)
REFRIGERATED CONTAINER ON LPT 2818/2821_COWL BS6
REFRIGERATED CONTAINER ON LPT 2818/2821_COWL BS6
| | | | |
| --- | --- | --- | --- |
| MODEL | 24 ft MS Reefer Container on LPT 2818/2821 _68WB_Cowl | 32 ft MS Reefer Container on LPT 2818/2821 _68WB_Cowl | 32 ft PPGI Reefer Container on LPT 2818/2821_68WB_Cowl |
Body Dimensions (LxWxH)
7320 mm x 2590 mm x 2590 mm
9760 mm x 2590 mm x 2800 mm
9750 mm x 2590 mm x 2831 mm
Internal Body Dimensions (LxWxH)
6970 mm x 2340 mm x 2240 mm
9450 mm x 2340 mm x 2460 mm
9557 mm x 2396 mm x 2600 mm
Floor
125 mm Sandwich panel construction with GRP Sheet + PU Foams + Aluminum T Grating
125 mm Sandwich panel construction with GRP Sheet + PU Foams + Aluminum T Grating
128 mm Sandwich panel construction with GRP Sheet + PUF Insulation + Aluminium T Grating
Side panel
1.6mm corrugated MS panels + 100mm PU foams + 0.5mm SS Sheet (Food grade)
1.6mm corrugated MS panels + 100mm PU foams + 0.5mm SS Sheet (Food grade)
1.4mm PPGI sheet+ 100mm PU foams + 1.5mm GRP Sheet (Food grade)
Door
1.6mm corrugated MS panels + 100mm PU foams + 0.5mm SS Sheet (Food grade)
1.6mm corrugated MS panels + 100mm PU foams + 0.5mm SS Sheet (Food grade)
1.5mm GRP sheet+ 100mm PU foams + 1.5mm GRP Sheet (Food grade)
Headboard/Front panel
1.6mm corrugated MS panels + 100mm PU foams + 0.5mm SS Sheet (Food grade)
1.6mm corrugated MS panels + 100mm PU foams + 0.5mm SS Sheet (Food grade)
1.5mm GRP sheet+ 100mm PU foams + 1.5mm GRP Sheet (Food grade)
Roof
125mm PU Foam
125mm PU Foam
120mm PU Foam
Ambient Temperature
50 ⁰C
Operating Temperature range
(-20⁰C+25⁰C)
Insulation Density
38-40 kg/m
Refrigeration Unit: Make & Model
(Carrier) Supra 1150 / (Thermoking) T800
(Carrier) Supra 1150 / (Thermoking) T1000
Internal Lights
3 nos. - 6 " LED light sunken type, 24 V, equi-spaced, flush with roof
Electricals
As per regulations
Standard Accessories
Mudguard flap / side indicators / internal lights / others
Painting & Rust Prevention
Polyurethane (PU) finish paint
Additional Fitments
Strip curtain with SS brackets
Application
Fruits & Vegetables, Dairy, Pharmaceuticals, Meat, Frozen food, Sea food, Beverages, Flowers
Optional Fitments
Rear parking camera and camera inside container; Door opening sensor; Small U hook; Temporary partition; Load sensor with GPS tracking; Anti fuel theft system - OTP enabled padlock
MS CONTAINER ON 2818/2821_COWL & ULTRA CAB BS6
MS CONTAINER ON 2818/2821_COWL & ULTRA CAB BS6
| | | | |
| --- | --- | --- | --- |
| MODEL | 32 ft MS Container on SIGNA 2818/2821_68WB | 32 ft_8.9 ft MS Container on LPT 2818/2821_68WB | 32 ft_9.5 ft MS Container on LPT 2818/2821_68WB |
Body Dimensions (LxWxH)
9450 mm x 2590 mm x 2665 mm
9884 mm x 2590 mm x 2665 mm
9850 mm x 2590 mm x 2895 mm
Body Dimensions Internal (LxWxH)
9245 mm x 2525 mm x 2440 mm
9679 mm x 2525 mm x 2440 mm
9645 mm x 2525 mm x 2670 mm
Side Panel / Door / Front Panel
1.6 mm Corrugated Mild steel
Floor Sheet
3.15 mm Mild Steel (chequered)
Wind Deflector
Tubular Structure of GI/FRP Sheet
Side Markers
5 nos. on each side (total 10)
LED Roof Lights
2nos.
Electricals & Reflective Tapes
As per regulation
Application
Consumer Durables, FMCG, Parcel, E-Commerce, Industrial goods, Auto Components, Agri Bags
Optional Fitments
Rear parking camera and camera inside container; Door opening sensor; Small U hook; Temporary partition; Load sensor with GPS Tracking; Anti fuel theft system; OTP enabled padlock
WATER TANKER ON SIGNA 2818/2821.T BS6
WATER TANKER ON SIGNA 2818/2821.T BS6
| | |
| --- | --- |
| MODEL | 15KL Water Tanker on SIGNA 2818/2821_48WB |
| | |
| --- | --- |
| Body Dimension | 6100 mm x 2235 mm x 1420 mm |
| Outer Shell Thickness | 3 mm Mild Steel |
| Dish End Thickness | 3 mm Mild Steel |
| Compartment | 4 Compartments |
| Manhole | 4 Manholes |
| Optional Fitment | Pump - MK 20 HSPP |
| Application | Bulk Water Transportation |
REEFER CONTAINER ON LPT 3518/3521_68WB_Cowl BS6
REEFER CONTAINER ON LPT 3518/3521_68WB_Cowl BS6
| | |
| --- | --- |
| MODEL | 32 ft MS Reefer Container on LPT 3521 _68WB |
| | |
| --- | --- |
| Body Dimensions (LxWxH) | 9760 mm x 2600 mm x 2800 mm |
| Internal Body Dimensions (LxWxH) | 9410 mm x 2400 mm x 2450 mm |
| Floor | 125 mm Sandwich panel construction with GRP Sheet + PU Foams + Aluminum T Grating |
| Side panel | 1.6mm corrugated MS panels + 100mm PU foams + 0.5mm SS Sheet (Food grade) |
| Door | 1.6mm corrugated MS panels + 100mm PU foams + 0.5mm SS Sheet (Food grade) |
| Headboard/Front panel | 1.6mm corrugated MS panels + 100mm PU foams + 0.5mm SS Sheet (Food grade) |
| Roof | 125mm PU Foam |
| Ambient Temperature | 50 ⁰C |
| Operating Temperature range | (-20⁰C+25⁰C) |
| Insulation Density | 38-40 kg/m |
| Refrigeration Unit: Make & Model | (Carrier) Supra 1150 / (Thermoking) T1000 |
| Internal Lights | 3 nos. - 6 " LED light sunken type, 24 V, equi-spaced, flush with roof |
| Electricals | As per regulations |
| Standard Accessories | Mudguard flap / side indicators / internal lights / others |
| Painting & Rust Prevention | Polyurethane (PU) finish paint |
| Additional Fitments | Strip curtain with SS brackets |
| Application | Fruits & Vegetables, Dairy, Pharmaceuticals, Meat, Frozen food, Sea food, Beverages & Flowers |
| Optional Fitments | Rear parking camera and camera inside container; Door opening sensor; Small U hook; Temporary partition; Load sensor with GPS tracking; Anti fuel theft system - OTP enabled padlock |
BULKER ON SIGNA 3518/3521.T BS6
BULKER ON SIGNA 3518/3521.T BS6
| | | |
| --- | --- | --- |
| MODEL | 23 CuM Bulker on SIGNA 3518/3521.T_ 52WB | 29 CuM Bulker on SIGNA 3518/3521.T_ 52WB |
Tank Material
IS 2062 & BSK 46
IS 2062 & BSK 46
Manholes
2 x 450 mm manholes for gravity fill
3 x 450 mm manholes for gravity fill
Operating Parameters
Test pressure: 2.86 bar (with certificate); Operating pressure: 2 bar; Air feed: approx. 1 200 cum/hr
Test pressure: 2.86 bar (with certificate); Operating pressure: 2 bar; Air feed: approx. 1 200 cum/hr
Loading System
Through manholes
Through manholes
Unloading System
By means of pneumatic pressurised dry air with the help of aeration pads
By means of pneumatic pressurised dry air with the help of aeration pads
Ladder Arrangement
One ladder with catwalk
One ladder with catwalk
Discharge
PN 10 rating wafer type butterfly valveDN 125 for material outlet & DN 80 for air inlet
PN 10 rating wafer type butterfly valveDN 125 for material outlet & DN 80 for air inlet
Special Features
Each tank is fitted with aeration and conveyance device
Each tank is fitted with aeration and conveyance device
Painting
Shot blast, one coat of epoxy primer and final top coat with one colour, as per requirement
Shot blast, one coat of epoxy primer and final top coat with one colour, as per requirement
Accessories
Mudguards, one side catwalk with handrail and spray suppression system, retro reflective markings, SUPD & RUPD as per regulation
Mudguards, one side catwalk with handrail and spray suppression system, retro reflective markings, SUPD & RUPD as per regulation
Application
Cement & Fly ash
LOAD BODY ON LPT / SIGNA 4225 BS6
LOAD BODY ON LPT / SIGNA 4225 BS6
| | | |
| --- | --- | --- |
| MODEL | 28 ft Fixed Side Deck on LPT / SIGNA 4225 68(P)and62(Tag)WB | 28 ft High Side Deck on LPT / SIGNA 4225 68(P)and62(Tag)WB |
Body Dimensions (LxWxH)
8600 mm x 2475 mm x 1386 mm
8600 mm x 2475 mm x 1830 mm
Body Dimensions Internal (LxWxH)
8465 mm x 2315 mm x 1070 mm
8465 mm x 2315 mm x 1530 mm
Side Panel / Door / Front Panel
Plain Mild Steel 3mm thick
Floor
Plain Mild Steel 4 mm thick
Reflective Tape
On sides & rear
Side Marker
4 on each side (total 8)
Side Window
760 mm x 460 mm (both sides)
1000 mm x 460 mm (both sides)
Storage Box
700 mm x 700 mm x 700 mm
Painting Process
Polyurethane finish paint
Application
Industrial goods, Agri Bags, Steel parts, Pipes, Tubes and Bars, Auto Components, Barrels, Cement Bags, Coal etc
Application
Industrial goods, Agri Bags, Steel parts, Pipes, Tubes and Bars, Auto Components, Barrels, Cement Bags, Coal etc
BULKER ON LPT / SIGNA 4225.T BS6
BULKER ON LPT / SIGNA 4225.T BS6
| | | |
| --- | --- | --- |
| MODEL | 28 CuM Bulker on LPT 4225 / SIGNA 68(P)and62(Tag)WB | 30 CuM Bulker on LPT 4225 68(P)and62(Tag)WB |
Tank Material
IS 2062 & BSK 46
IS 2062 & BSK 46
Manholes
2 x 450 mm manholes for gravity fill
2 x 450 mm manholes for gravity fill
Operating Parameters
Test pressure: 2.86 bar (with certificate); Operating pressure: 2 bar; Air feed: approx. 1 200 cum/hr
Test pressure: 2.86 bar (with certificate); Operating pressure: 2 bar; Air feed: approx. 1 200 cum/hr
Loading System
Through manholes
Through manholes
Unloading System
By means of pneumatic pressurised dry air with the help of aeration pads
By means of pneumatic pressurised dry air with the help of aeration pads
Ladder Arrangement
One ladder with catwalk
One ladder with catwalk
Discharge
PN 10 rating wafer type butterfly valveDN 125 for material outlet & DN 80 for air inlet
PN 10 rating wafer type butterfly valveDN 125 for material outlet & DN 80 for air inlet
Special Features
Each tank is fitted with aeration and conveyance device
Each tank is fitted with aeration and conveyance device
Painting
Shot blast, one coat of epoxy primer and final top coat with one colour, as per requirement
Shot blast, one coat of epoxy primer and final top coat with one colour, as per requirement
Accessories
Mudguards, one side catwalk with handrail and spray suppression system, retro reflective markings, SUPD & RUPD as per regulation
Mudguards, one side catwalk with handrail and spray suppression system, retro reflective markings, SUPD & RUPD as per regulation
Application
Cement & Fly ash
BULKER ON LPT / SIGNA 4825.T BS6_LDL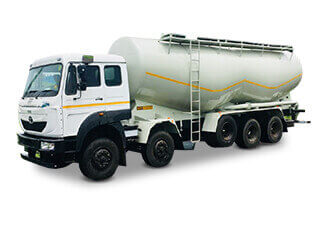 BULKER ON LPT / SIGNA 4825.T BS6_LDL
| | | |
| --- | --- | --- |
| MODEL | 34 CuM Bulker on LPT / SIGNA 4825 LDL | 37 CuM Bulker on LPT / SIGNA 4825 LDL |
Tank Material
IS 2062 & BSK 46
IS 2062 & BSK 46
Manholes
2 x 450 mm manholes for gravity fill
2 x 450 mm manholes for gravity fill
Operating Parameters
Test pressure: 2.86 bar (with certificate); Operating pressure: 2 bar; Air feed: approx. 1 200 cum/hr
Test pressure: 2.86 bar (with certificate); Operating pressure: 2 bar; Air feed: approx. 1 200 cum/hr
Loading System
Through manholes
Through manholes
Unloading System
By means of pneumatic pressurised dry air with the help of aeration pads
By means of pneumatic pressurised dry air with the help of aeration pads
Ladder Arrangement
One ladder with catwalk
One ladder with catwalk
Discharge
PN 10 rating wafer type butterfly valveDN 125 for material outlet & DN 80 for air inlet
PN 10 rating wafer type butterfly valveDN 125 for material outlet & DN 80 for air inlet
Special Features
Each tank is fitted with aeration and conveyance device
Each tank is fitted with aeration and conveyance device
Painting
Shot blast, one coat of epoxy primer and final top coat with one colour, as per requirement
Shot blast, one coat of epoxy primer and final top coat with one colour, as per requirement
Accessories
Mudguards, one side catwalk with handrail and spray suppression system, retro reflective markings, SUPD & RUPD as per regulation
Mudguards, one side catwalk with handrail and spray suppression system, retro reflective markings, SUPD & RUPD as per regulation
Application
Cement & Fly ash